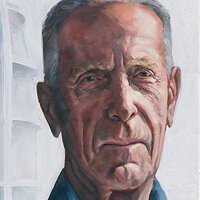 Wojtek works with oils on canvas. Uses the language of academic realism with just enough expression between brush strokes to make his stories as clear as possible.
He believes that an artist capable of gathering an audience has a duty to spread ethical/moral messages. "Art with no intellectual value is nothing but decor".

In the migrant series – different stages of the migrant journey are illustrated pointing out that migrant can come from any background. He uses fashion models instead of real people involved to make it easier for us to identify and sympathize with their stories, the same way we are supposed to imagine ourselves in the clothes advertised by models).

Wojtek is also available for portraits.
Utbildning
2004-2009 - European Academy of Arts, Warsaw, Poland
2009 - Master's Degree, Painting and Photography
Med i konstrunda
2019 - Konstrundan I Blekinge
Utställningar
2002/03 - solo exhibition- PWST(State College), Elbląg , Poland
2005 - group exhibition - 8+Gallery, Warsaw, Poland
2006 - solo exhibition - 8+Gallery, Warsaw, Poland
2007 - solo exhibition - Gallery Katarzyna Napiórkowska, Warsaw, Poland
2008 - F. Eibisch Foundation - finalists exhibition, Warsaw, Poland
2011 - VIVA! Photo Awards 2010 finalists exhibition, Warsaw, Poland
2010-14 - Photographer, owner of "wmrStudio", author of many publications of fashion and commercial photos, covers, celebrity portraits etc.
since 2015 - paintings, murals and installations on permanent displays in: Lazy Dog, Semolino, Semolino2 restaurants in Warsaw
2018 - solo exhibition - Mor Oliviagården, Ronneby, Sweden