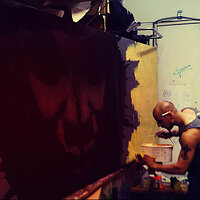 Viktor Rodriguez
Viktor Rodriguez D.R, born 1978 in Stockholm.
Since childhood, Viktor has always found it easier to express himself with different art forms rather then with words. During his studies at the Media School in Kärrtorp, Stockholm, Viktor picked up his basic skills in photography & graphic design which is what he later worked with throughout his 20s and early 30s as art director for various company's in London and Stockholm.
His main influences and artistic inspirations come from artists like Jackson Pollock, H.R Giger and from his love for Manga and Anime.
His passion for the abstract and surreal often found in sci-fi movies such as "Blade Runner" & "Alien" to name a few, strongly characterise his artistic expression.
His art calls for self-reflection and allows the viewer to have space for free interpretation, without borders. Viktors art and paintings rarely start out with a specific idea or plan as he gives way for his unconscious mind take creative control while still implementing various techniques and skills he´s learned and picked up throughout his artistic and spiritual journey in life.
Kontakta Viktor Rodriguez