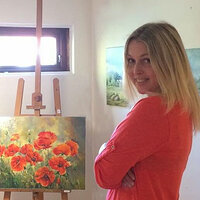 Svetlana Gurko
Ödeshög
My name is Svetlana Gurko and i was born in Riga and graduated from Riga Art School. Got a higher education in The Herzen State Pedagogical University in St. Petersburg which I gratuadet from the faculty of fine arts in 1994.

After that I have worked in middle school as an art teacher in Latvia in 13 years. Further I had my own art studio where I continued to paint my own paintings and learn children to paint. In 2007 my life has changed, and I moved to Sweden where I began to teach student to paint in another studio and parallel to that continue to paint different kind of arts. I have painted in a classical style for a long time and what is special with my work is that now I develop my own style with classical art as a foundation. I combine the past and the modern style, classic objects together with constructivism, where form and abstraction collide in one art.

I consider myself as a strong character with powerful personality, because of some certain life circumstances I managed to rebuild my path and career in a new country. Beside that I managed to win love and respect from students, admirations by professional colleagues and succeed to attract attention of viewers who became potential buyers in the future. Some of my works consist in my private collections in U.S and Europe.