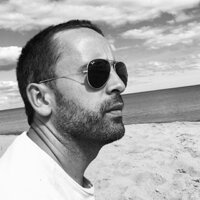 Bogdan Murg-Perlmutter
Francis Bacons koncept om en "stramvandring mellan det som kallas figurativ målning och abstraktion" skulle förmodligen bäst beskriva min målningsteknik. Det har varit en omvänd process, där min stil uppdykt intuitivt.



Francis Bacon's concept of a 'tightrope walk between what is called figurative painting and abstraction' would probably best describe my painting technique.
It has been a reversed process, in which my style surfaced intuitively.

Each painting is, thus, multiple performances.The initial stage of the painting, the abstract phase, allows me to suspend the operation of rational decisions. In the same way you can't control what you're dreaming, when I start a piece I never know where it's going to take me, or where it is going to take the viewer. In the figurative phase the subconscious kicks in through symbols, metaphors, and visual forms which are projected in the artwork.

The pieces depict subjects that might not have much in common at first glance, ranging from fairy-tale - religious characters, mythological characters, politics or the future of our species. It is a very intimate process and each painting might offer insights into personal subjects or experiences.
Utställningar
200130-200213, Samutställning Be Inspired, Palazzo Ducale, Genova.
Aktuellt
Interview Al-Tiba9 Art Magazine No5

www.altiba9.com/artist-interviews/bogdan-murg-from-abstraction-to-figurative-painting
Publicerat 4 maj
Kontakta Bogdan Murg-Perlmutter