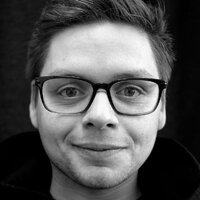 Magnus Kalitzki
Falun Född: 1983
Magnus Kalitzki grew up in Kopparberg, which is a small village in the heart of the mining region Bergslagen. Magnus also have German roots from his father's side; his grandfather immigrated to Sweden after World War II.

Kopparberg was a typical village for this region, a proud history evolving around the not forgotten glory days during the mining era and a present time suffering from high unemployment and a wave of closing industries, workplaces, schools and stores. And as many other similar villages in the rural part of Sweden, there was a lack of graffiti, street arts and public art in general. The lack of esthetic inspiration was however not an hindrance for Magnus, at an age of 16 he discovered the forbidden world of street and spray can art, and it did not take long before he was caught inside this colorful world of characters and letters. Through these 15 years as an active artist, Magnus has undergone several of different stages in terms of style and expression, with a strong focus on shape and colors. Hence, if one look closely at his artwork today and compare it to his earlier artwork, one can still feel the essence of his particular style throughout all these years.

Although Magnus came from a small village, this has not stopped him from leaving his mark throughout the concrete jungle of Europe and several cities in Sweden. To name a few of these places: Amsterdam, Berlin, Lille, Copenhagen, Oslo, Malmö, Falun, and Lindesberg. Since eight years back, Magnus have been stationed in the county of Dalarna in a city named Falun, where he has been active with different art projects, many of them involving both public and private actors such as: museums, Falun Municipality, companies, festivals etc. Magnus have also been active through his art within other areas, such as: holding lectures in street art, hosting seminars, working with kids to express themselves through street art and much more.

Magnus colorful birds – which can be seen in both large and small scales, on walls and on canvases – are truly a clash between urban street art and nature itself. Magnus have used all the techniques and skills he have absorbed through spray can art and have applied it to create birds in all different shapes and colors. The birds truly symbolize Magnus style when it comes to large format, raw features and strong colors.
Utställningar
2010- Ocensurerat - Magasinet - Falun
2012- Eternal Return - Magasinet - Falun
2013- Höst salongen - Dalarnas konstförening Falun
2014- Turned street art - Stockholm
2014- Falun Walk of Art - Tunnel project - Falun
2014- Paint the city - Mural- Lindesberg
2015- Kulturnatta Leksand - Wold bigest Kurbits - Leksand
2015- Pieces of art - Borlänge
2015- Artpark Falun - Ski world championship - Falun
2015- Springremake - Snösätra gränd Stockholm
2015- Outcast Charity - Falun
2015- Galleri storsten - Falun
2016- Umami 5th taste of art - Wallery - Stockholm
2016- Gott och blandat - Wallery - Stockholm
2016- Turned street art 16 - Wallery - Stockholm
2016- Popup galleri - Borlänge
2018- KvadrArt - Wallery - Stockholm
2018- CarArt Biennalen - Leksand
2019- Kulturkalaset - Leksand