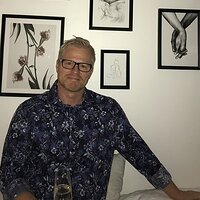 Mikael Wertwein
Mikael's passion and love of color and form were raised when he was young in an artistic environment on Öland, an island in Sweden.
His knowledge of paints, paintbrushes and paintings was both play and learning with joy for many years. Today it finds its way on small and large canvas cloths and acrylic paper.
Many of Mikael's works of art, opens up for his inner creativity and can be expressed in his paintings.
The paintings are often in Oil or Acrylic with strong colors and done in many layers. There are different intuitive motifs, sometimes abstracts.

Artist Reflection:
Painting is my great passion and my driving force is to continue to develop and make art meaningful. My paintings are painted on canvas and can be found in the category "Abstract / Modern Art".

With my art, I want to convey human emotion through a universal visual language of abstract shapes and colors that transcends cultural and physical boundaries.
For me, abstract art is the ideal visual mode for expressing thoughts and also conveying universal human emotions and ideas.

The paintings can also be viewed from different dimensions and thus get different looks depending on the viewer's feelings and experiences.