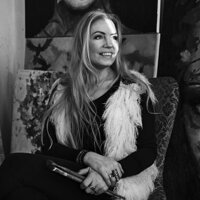 Malin Östlund
Skellefteå
The artist Malin Östlund's work is like an intuitive connection to the beautiful and poetic side of life.
Dreamy paintings filled with friendly souls, a gate to the garden of the senses which opens a world where you can dream and rest.

Her paintings are created with a mix of classical portrait painting and a more modern expression, that sometimes even tends to the abstract.

Malin has always had the creativity with her ever since childhood. She has always expressed herself in drawing and painting and making sculptures in different materials.

Since her first solo exhibition in 2010, she has participated in several jury-rated, collective and separate exhibitions. Today she work as a full time artist in her studio in central Skellefteå, and has clients and collectors around the world.

"My creative mind consists of one beautiful feeling where there is no darkness. I'm taking a step into a more present world where dreams can flourished and happiness always has a given place. I hope the viewer can feel the presence of human and the beauty of life, which I want to convey in my art.

Nature, flowers and human inner strength and ability are something that inspires me a lot.
When I start a painting I rarely know what the subject will be like. I always start applying a lot of colors on the white cloth until I find the right feel and color combination. Then I build the colors in layers until I have achieved the expression and the composition sought.
Utbildning
Autodidakt
Utställningar
Solo
2018 Galleri R Linköping, Sweden
2018 Galleri Puckeln Stockholm, Sweden
2018 The Nut house Upplands Väsby, Sweden
2017 Liljas konst&Ram Skellefteå, Sweden
2017 Galleri Puckeln, Stockholm, Sweden
2016 Galleri Puckeln, Stockholm, Sweden
2015 Skellefteå konsthall, Sweden
2015 Liljas konst&Ram Skellefteå, Sweden
2015 Galleri Puckeln, Stockholm, Sweden
2014 Waynes Coffee House, Skellefteå, Sweden
2014 Liljas konst&Ram Skellefteå, Sweden
2014 "A wonderful day" Skellefteå stadshus, Sweden
2013 Galleri1 Skellefteå, Sweden
2012 Galleri1 Skellefteå, Sweden
2011 Pinax, Skellefteå, sweden
2010 Pinax, Skellefteå, Sweden

Juried
2018 Stipendieutställning Halmstad Slott, sweden
2018 Sommarsalong Galler 1 Skellefteå, Sweden
2016 Stipendieutställning Halmstad Slott, Halmstad, Sweden
2016 Höstsalong Skellefteå konsthall, Sweden
2015 Stipendieutställning Galleri Bluelight, Halmstad Sweden
2014 Stipendieutställning Galleri Bluelight, Halmstad Sweden
2014 Länssalong Västerbotten museum, Umeå, sweden
2013 Höstsalong Skellefteå konsthall, Sweden
2012 Vårsalong Skellefteå konsthall, Sweden

Group
2019 Carre dàrtistes Beijing, Kina
2019 Artworks 4 change, Stockholm, Sweden
2018 Affordable artfair Stockholm, Sweden
2018 Carre dàrtistes Toulouse, Frankrike
2017 Carre dàrtistes Shanghai, Kina
2017 Merlino Bottega Dárte, Italien
2017 Affordable artfair Stockholm, Sweden
2017 Konst i Kvarnbyn, Burträsk, Sweden
2016 "Experiment" Art expertise, Italien
2016 "Wide open" Bottega d'Arte Merlino, Italien
2016 "Hair" Skellefteå stadshus Sweden
2016 Galleria Mentana, Italien
2016 Påskutställning Halmstad Slott, Sweden
2016 Advokatbyrån Fylgia, Stockholm
2014 Galleri Bluelight Halmstad, Sweden
2014 Brinken Skellefteå stadshus, Sweden
2014 Konst i Kvarnbyn, Burträsk, Sweden
2013 "Nyfiken på konst" Skellefteåmässan, Sweden
2012 Nyborg Skellefteå konsthall, Sweden