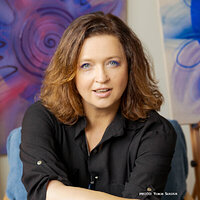 Mag Blue
Stockholm Född: 1972
Mag Blue är en bildkonstnär som arbetar inom måleri, foto, NFT Art och design. Hon uttrycker också sin kreativa lyhördhet genom installationer och performance. Hon är en aktiv initiativtagare, curator och implementerare av kulturella koncept.

Vill du se hennes konst live, inte bara på utställningen? Efter överenskommelse besök Ateljé och Kungliga Blå Bildkonstgalleriet: LM Ericssons Väg 1, 12636 Hägersten, Stockholm.

***

Mag Blue is a visual artist working in painting, photography, NFT Art and design. She also expresses her creative sensitivity through installations and performances. She is an active initiator, curator and implementer of cultural concepts.

Do you want to see her art live, not just at the exhibition? By appointment, visit Ateljé and the Royal Blue Visual Arts Gallery: LM Ericssons Väg 1, 12636 Hägersten, Stockholm.
Medlem i konstnärsförening
She is a member of several artistic and photographic associations and communities in Sweden and UK.
Med i konstrunda
Royal Blue Visual Arts Gallery - Stockholm 2023. Gallery Zeitgeist - Uppsala 2021
Utställningar
Mag har över 250 konstnärliga projekt runt om i världen och flera värdefulla utmärkelser, inklusive 2019 års Diploma for Merits av ministern för kultur och kulturarv.

Hon samarbetar permanent med olika gallerier i Sverige, Frankrike, USA och är medlem i flera konstnärliga och fotografiska föreningar i Sverige och Storbritannien. Hennes konstverk ställs ut nästan över hela världen, och den största privata samlingen av hennes verk finns i New York. Hennes konstverk finns också tillgängliga som NFT Art på OpenSea.io och VR-utställningar.

Många av hennes publikationer om konst, design och konstprojekt har dykt upp i tidningar som Villa, Residences, Gentleman, Interior and Garden, Elity, Pangea Magazine, Stockholm Designer Magazine, etc.

Fullständig BIO: www.MagBlueArt.se
***
Mag has over 250 artistic projects around the world and several valuable awards, including the 2019 Diploma for Merits of the Minister of Culture and Cultural Heritage.

She permanently cooperates with various galleries in Sweden, France, USA and is a member of several artistic and photographic associations in Sweden and the UK. Her art works are exhibited almost all over the world, and the largest private collection of her works is in New York. Her art works are also available as NFT Art on OpenSea.io and VR exhibitions.

Many of her publications on art, design and art projects have appeared in magazines such as Villa, Residences, Gentleman, Interior and Garden, Elity, Pangea Magazine, Stockholm Designer Magazine, etc.

Full BIO: www.MagBlueArt.se
Aktuellt
Nordic Art Guide 2023 https://youtu.be/BA_0vCaCbbE
Publicerat 20 maj
Visual artist Mag Blue explores the energy that surrounds us.

Feel free to read - an interview with me for the Artportable portal: https://artportable.com/en/stories/visual-artist-mag-blue-explores-the-energy-that-surrounds-us
Publicerat 1 oktober 2022
Preparations for the new exhibition are in full swing! The energy is amazing - I love the highest vibrations. On October 8, 2022, I invite you to the opening of Mag Blue next individual exhibition - this time at the Engleson Galleri in Gamla Stan in Stockholm. https://youtu.be/5p5_Xig5dog
Publicerat 27 augusti 2022