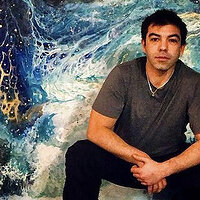 M. A.
Göteborg Född: 1984
I am always been interested in a different form of art, I've been developing my own abstract painting after many years of practice, experiments And studies on chemical reaction between different materials. I see my Art as a healing art, a flow of energy from my hands reach the viewer though the canvas with composition of natural patterns and vibrant colors.

When I ve been asked for the first time to give a price to my Art, it generated a kind of a block for me in creativity. I believe money and art should be left separate.
I decided to sell my painting by private negotiations between The buyer and me. The money Will be used to distance adoptions of children living in poverty, in order to guarantee them a life that otherwise they could not have. I will only keep the cost i had to buy the materials i used in order to allow me to continue to make my Art and keep experiment.