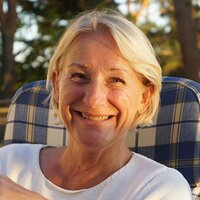 Lotta Höglund Palmquist
Jag är född 1954 och har vuxit upp i en liten by utanför Härnösand, Ångermanland, Sverige. Sedan 2002 har jag bott mestadels i Frankrike, i Paris 2002 - 2011, därefter i Vias, Langedoc-Roussillon, Frankrike. Somrarna tillbringar jag fortfarande i Sverige, i Sörmland.

Jag har ingen formell utbildning, bara kortare kurser och workshop, men jag älskar att använda olika material och tekniker och jag har väldigt roligt under arbetes gång. Vissa tekniker tilltalar mig förstås mer än andra och det märks kanske.
Här presenterar jag ett urval av min konst, men jag har en hemsida där det finns mer att titta på

http://lottasatelje.weebly.com/ , Välkommen in och titta.

I was born in 1954 and grew up in a small town outside Härnösand, Ångermanland, Sweden. Since 2002 I have lived mostly in France, in Paris 2002 - 2011, then in Vias, Langedoc-Roussillon, France. In the summer I still spend in Sweden, in Sörmland.

I have no formal education, just shorter courses and workshops, but I love using different materials and techniques and I am very happy during work. Of course, some technicians appeal to me more than others and it may seem.
Here I present a selection of my art, but I have a website where there is more to look at

http://lottasatelje.weebly.com/, Welcome in and look.
Utbildning
Diverse workshops, en kort akvarellkurs o kurser genom SWEA-Art.
Medlem i konstnärsförening
SWEA Art Stockholm
Med i konstrunda
Scand´Oc, Langedoc, Frankrike
Utställningar
Utställningar/Exhibitions:

KONSTBIENNALEN, NICE, Frankrike dec. 2015 - - febr. 2016 JURYBEDÖMD
GALLERI ENGLESON, Gamla stan, Stockholm, november 2015
VIAS, Frankrike, april 2015
TORREDEMBARRA, Spanien, september 2014, tillsammans med SWEA-Art International
STOCKHOLM, Galleri T, oktober 2013
LONDON, februari 2011, tema "Grönt", SWEA-Art Internationa
TORREDEMBARRA, Spanien, september 2010, tillsammans med SWEA-Art International
PARIS, Grand Palais, november 2010 « Salon du dessin et de la peinture à l´eau »
LUNÉVILLE, Frankrike, oktober 2010, " Salon d´Automne International. JURYBEDÖMD
TORREDEMBARRA, Spanien, september 2010, tillsammans med SWEA-Art International
STOCKHOLM, sommar 2010, Galleri Nybroviken
PARIS, maj 2010, "Salon du Printemps"
LONDON, mars 2010, "Red Line"
PARIS, januari/februari 2010, Galerie Thuillier, separat utställning
PARIS, hösten 2009, tema "Speglar och självporträtt" projekt inom SWEA-Art
PARIS, Grand Palais, november 2009, "Salon du dessin et de la peinture à l´eau"
PARIS, maj 2009 , "Salon du Printemps"
PARIS, maj 2008, "Salon du Printemps"
BRYSSEL, september 2008, tema "Blå-gult", projekt inom SWEA-Art International