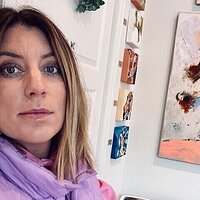 Linda Eklund
Trosa kommun Född: 1984
Linda Eklund born in 1984 is a swedish artist who paints humans and animals in acryl and oil. She plays with emotions and her works often leaves the observers with a lot of thoughts. She is fascinated by details and grafic forms and patterns. Music is an important ingredience in her art. She is often inspirered by music that sets the tone in the paintings. Art comes in many forms.

She has been presented in many galleries in her homecountry Sweden from South of Sweden and in and around Stockholm. She has also been presented in Spain and Italy.

Art has been her mother tounge since her childhood. She needed art as a tool to deal with grief and missing.

She likes to participate in different art groups with other artists. They fix exhibitions and different projects together. Being an artist can be lonely and therefore she thinks its fun and rewarding to be creative together with others.
Utbildning
Art & form senior High school
Medlem i konstnärsförening
St Anna konstförening Trosa
Med i konstrunda
Konsttriangeln Trosa kommun
Utställningar
Exhibitions and art projects in selection:
2023
Galleri Gustafsson
Gallery Eklund Art invigs
Kabusa Art Gallery
Hammarö Art Gallery
Kullaweek, Gallery Marika Lang
Konst & Antikmässan , Barbro of Sweden
2022
Stockholms vårsalong
Gallery Marika Lang, Kullavik
2021
Affordable Art fair ,Stockholm
Galleri Marika Lang, Kullavik
Gallery Kabusa , Österlen
2020
Gallery Marika Lang, kullavik
Gallery salon Itaca, Barcelona
Gallery nordic art, Stockholm
Gallery nordic art Wall
Gallery Frameland- Mikazuki, Solo exhibition
Gallery Marika Lang, Kullavik
Galleria Crearium Huesca ,Spain
Galeria ll Laboratorio Rom, Italy
Gallery Bellman ,Stockholm
Virtual exhibition

2019
Galeria de Pascual de Cabo, Palma.
Cooperation with a group of artist and designers that makes designed bags/clothes with original paintings on.
KonstTriangeln, Trosa, local art round.
Five artists. Stockholm, collection exhibition.

2018
Gallery 12 Katrineholm.
Katrineholms Konsthall, jury-judged exhibition.

2017
KonstTriangeln, Trosa, local art round.

2016
Exhibition Arkelstorp, Kristianstad

2015
Gallery Sjöhästen, Nyköping.
Christmas exhibition

2014
Gallery Havsgården, Nynäs
Aktuellt
Augusti : Galleri Marika Lang, Kullavik
Publicerat 22 april
Nästa utställning i Karlstad , Hammarö art
Publicerat 20 april