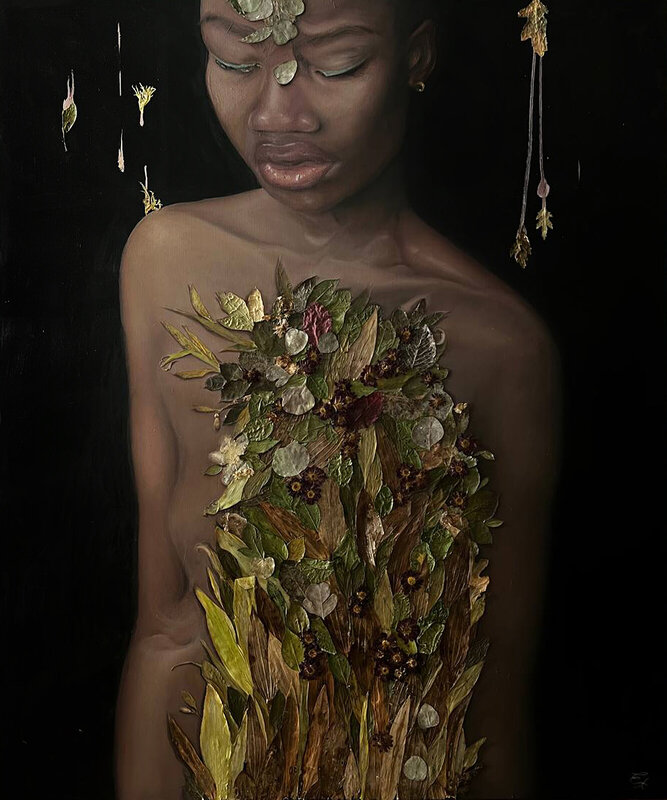 Inner Garden, 2023
Olja
100 x 120 cm
"Inner Garden" invites viewers into a mystical realm of introspection and self-discovery. The primary medium used in this artwork is oil paint, with a dark color palette that evokes a sense of mystery, depth, and introspection.
The painting features a central figure, depicted with a glitchy body with no defined gender. This representation symbolizes the complexities and fluidity of identity and challenges traditional notions of form and existence. The glitchy effect adds a sense of digital distortion, suggesting the interplay between the physical and virtual worlds.
In "Inner Garden," the artist uses elements of mixed media by incorporating actual dry leaves and flowers onto the canvas. These organic materials serve as a metaphor for the beauty and resilience found within the inner self. The integration of these elements adds texture and tactile quality to the artwork, further emphasizing the connection between humanity and the natural world.
The inspiration for "Inner Garden" stems from a deep exploration of the inner landscape, the hidden depths of the self, and the continuous process of self-discovery. The artist draws inspiration from the introspective journey, embracing the complexities and contradictions of personal identity, and celebrating the beauty found within the inner realms.Through this painting, the artist aims to evoke a sense of introspection and encourage viewers to embark on their own inner journey. It prompts reflection on themes of identity, self-exploration, and the interconnectedness between the digital and natural worlds.
"Inner Garden" serves as a visual representation of the inner landscapes that exist within each individual, inviting viewers to explore their own depths and connect with their inner selves. It celebrates the diversity of identity and challenges conventional boundaries, encouraging viewers to embrace their own unique and ever-evolving identities.
Om konstnären
Elen Alien (b. 1990, Ukraine) is a staunch cosmopolitan. In her works, she combines elements of different times and cultural communities, thus pointing to the absence of the need for separation, and labeling, to the fact that together all people and nature form a common organism. The art of Elen Alien expresses the unity of the sacred, natural and aesthetic, in their striving for a common goal. Her research unfolds at the points of contact between nature and humans, again addressing questions that people have tried in vain for centuries to find answers to with the help of science and technology. In her artistic practice, the artist tries to "preserve forever" the elusive beauty of the moment. Combining the tenderness of flowers and the hardness of epoxy resin, she reveals the ambivalence of glorifying the beauty of imperfection and contrasts art with digital immortality.
Utbildning
2021-2022
Vocational Degree in Fine Arts "Project Konst", Folkuniversitetet Konstskolan, Stockholm, Sweden

2021-2022
"Art, architecture and visual culture in Sweden" course, Stockholm University, Stockholm, Sweden

2007 - 2013
Specialist Degree in Architecture, Novosibirsk State Academy of Architecture and Art, Novosibirsk, Russia

1997 - 2007
Art school No2, Novokuznetsk, Russia
Medlem i konstnärsförening
Fria konstnärers sällskap
Utställningar
2023 – Borderless, Verse Gallery, Oslo
2022 – Autumn show, Gallery M35, Oslo
2022 – "Mono no aware" solo show, Brännkyrka church, Stockholm (solo)
2022 – Summer show, Gallery M35, Oslo
2022 – Varutstallning 2022, Gallery K45, Stockholm
2022 – "Mono no aware" solo show, Gallery K45, Stockholm (solo)
2022 – Spring salon, Nata Watts Gallery, Copenhagen
2021 – "Nymph", Monday studio, Copenhagen
2021 – "Kvinnliga Linjer", Park, Stockholm
2021 – "Nordic Art", Copenhagen
2021 – "The Earth. Version 2021. What was next?", Darwin Museum, Moscow
2021 – "Art dialogue", [format] gallery, Moscow
2018 – Next Station Sokol, Moscow
2012 – "OK. WATCH!", Nina Romanova, Novosibirsk