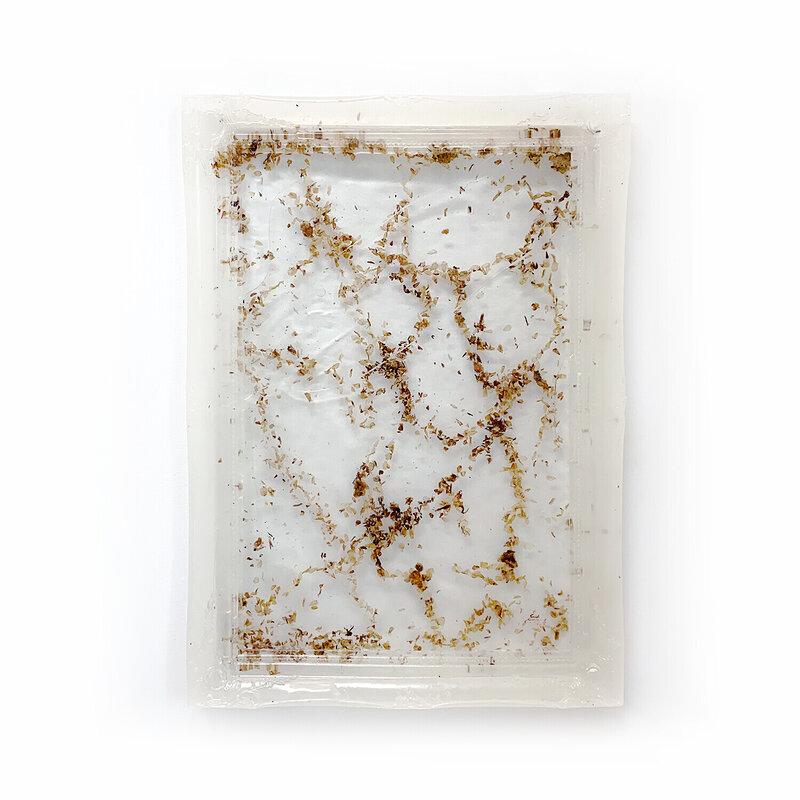 MNA 3, 2021
Annan
64 x 89 cm
In an abstract drawing woven from petals, there is a frozen moment of perception, and contemplation of the falling leaves of sakura - symbol of "mono no aware". An experience fixed in a material object in an attempt to preserve an elusive beauty is protected from the barbaric intrusion of technologies and virtualities.
In Japanese culture "mono no aware" means sadness from the realization of the actual impermanence of life. Fallen sakura petals, collected by the artist in Stockholm, express in her work the position of a cosmopolitan, a fundamental rejection of the imposed cultural identity. The image of a migrant is a principle of modern freedom, which has two sides: both the mutual enrichment of cultures and personal alienation, longing for a fleeting meeting with cultural tradition, "mono no aware".
The work celebrates the beauty of imperfection with its cracks to help the viewer to accept reality as it is, because it is the key to happiness as nothing is perfect according to the artist's point of view.
The work is ready to be hanged on the wall. It interacts with the interior through the beautiful shadow on the wall.
Om konstnären
Elen Alien (b. 1990, Ukraine) is a staunch cosmopolitan. In her works, she combines elements of different times and cultural communities, thus pointing to the absence of the need for separation, and labeling, to the fact that together all people and nature form a common organism. The art of Elen Alien expresses the unity of the sacred, natural and aesthetic, in their striving for a common goal. Her research unfolds at the points of contact between nature and humans, again addressing questions that people have tried in vain for centuries to find answers to with the help of science and technology. In her artistic practice, the artist tries to "preserve forever" the elusive beauty of the moment. Combining the tenderness of flowers and the hardness of epoxy resin, she reveals the ambivalence of glorifying the beauty of imperfection and contrasts art with digital immortality.
Utbildning
2021-2022
Vocational Degree in Fine Arts "Project Konst", Folkuniversitetet Konstskolan, Stockholm, Sweden

2021-2022
"Art, architecture and visual culture in Sweden" course, Stockholm University, Stockholm, Sweden

2007 - 2013
Specialist Degree in Architecture, Novosibirsk State Academy of Architecture and Art, Novosibirsk, Russia

1997 - 2007
Art school No2, Novokuznetsk, Russia
Medlem i konstnärsförening
Fria konstnärers sällskap
Utställningar
2023 – Borderless, Verse Gallery, Oslo
2022 – Autumn show, Gallery M35, Oslo
2022 – "Mono no aware" solo show, Brännkyrka church, Stockholm (solo)
2022 – Summer show, Gallery M35, Oslo
2022 – Varutstallning 2022, Gallery K45, Stockholm
2022 – "Mono no aware" solo show, Gallery K45, Stockholm (solo)
2022 – Spring salon, Nata Watts Gallery, Copenhagen
2021 – "Nymph", Monday studio, Copenhagen
2021 – "Kvinnliga Linjer", Park, Stockholm
2021 – "Nordic Art", Copenhagen
2021 – "The Earth. Version 2021. What was next?", Darwin Museum, Moscow
2021 – "Art dialogue", [format] gallery, Moscow
2018 – Next Station Sokol, Moscow
2012 – "OK. WATCH!", Nina Romanova, Novosibirsk