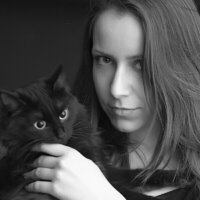 Iryna Khort
Täby Född: 1989
As an artist for more than six years, I stumbled upon my passion for painting by accident and have been happily creating ever since. My focus is on developing my art business by painting bright oil and acrylic pieces that draw inspiration from the natural world, particularly birds, people, and the beauty of nature.

To me, birds represent the freedom to think and move without constraints. This idea lies at the heart of my work and is a reflection of my desire to live life to the fullest. Through my art, my ultimate goal is to bring joy to my collectors and friends, sharing my impressions and inspiring others to appreciate and preserve wildlife.

In essence, I aim to showcase the beauty of the natural world through my artwork, and through this, encourage others to value and conserve it.
Utställningar
- "Runner up" on the 3rd online Autumn Exhibition "The Artists for Painted Dogs" 2022
​​​​​​​- Interviewed by the magazine International Artist, #145 June/July 2022
- Young Artist Award in the "2021 (Autumn) Malaysia International Online Juried Art Competitions - ANIMALS category"
- Interviewed by the magazine The Hall, May 2021