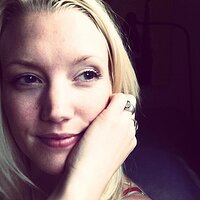 Jessica Enneby Eldenstjärna
I manifest inner worlds and otherworlds through a sensitive and rich palette of colours and materials. As an ambassador for Beauty, Soul and Nature I lend myself to meditative states, flow and intuition in my work. My motifs vary from figurative to semi-abstract and abstract using various media such as watercolour and pencil on paper, oil and mixed media on canvas, sculpture and short film. In performing acts, the dialogue with the sacred continues, translating reappearing elements and energies from paintings and sculptures into movement, colour and sound. With my roots in a lifelong interest in cross-culture mysticism, myth and meditation, I deal with spiritual and existential themes, engaged in embodying the etheral planes on a material level.

Exhibiting my work on a regular basis I currently live in Stockholm and I see the world as my working place.

"Jessica creates mythical Archetypal mindscapes that fascinate and illuminate.
She truly captures the imprint of a spiritual force; each painting so alive, seeming to breathe, and
challenges the viewer to look deep into themselves and also reach their highest potential."

-Gloria Henry, Co-founder of OM-times magazine

Visit www.jessicaeldenstjarna.se to see more.
Utbildning
Expressive Arts Therapeut - Psychotherapy, Expressive Arts Institute, Stockholm.
Fil kand. illustratör, Southampton, England, Konst&Form Skinnskattebergs folkhögskola, Konst&Form Gymnasium Karlstad
Utställningar
Soloshows:
2015 Mirror Works, Edsviken Art Hall, Stockholm
2015 OtherWorldly, Johan Thunberg Gallery, Älvkarleby
2014 Being is Unfolding, MLG gallery, Stockholm
2014 Initiations, MLG gallery, Stockholm
2013 There's a crack in everything, MLG gallery, Stockholm
2013 What Colour is the Soul, Gallery T, Stockholm
2011 Trees, Pfizer, Stockholm
2005 Norse Tales-Native Myth, Silvenska, Säffle

A selection of goupshows and duoshows:
2019 Primordial Shapes - re:sacralisation, Galerié Métanoïa, Paris
2019 Sacred Arts Festival, Senlis France
2018 De Suedoise, Galerié Metanoia, Paris
2018 Art Capital - Delegation Suedoise, Grand Palais, Paris
2016 Participation in worldwide project -Aclimatize-, Moderna Museet, Stockholm
2016 Performance Act, Folkkulturcentrum, Stockholm
2016 Represented at Kontoret Nybroviken, Stockholm
2015 Quintorganic Oscillations, a Performance Act, Munchenbryggeriet Fylkingen, Stockholm
2011 Roots, JiniSofia Studio, Stockholm
2010 Dreamfigures, Galleri Ängel, Stockholm
2010 Art-relay, Galleri Ängel, Stockholm
2009 Autumn-show, Galleri Ängel, Stockholm
2009 Spring-show, Galleri Ängel, Stockholm
2008 Represented at Galleri Engarden, Arvika
2007 Autumn-show, Silvenska, Säffle
2007 Racken Art, Arvika
2006 Racken Art, Arvika
2005 Spring-Show, Silvenska, Säffle
2005 Racken Art, Arvika
2004 Mini-Art, A-space Gallery, Southampton, UK

Artistic Facilitator of Art Projects:
2019-08 David & Goliath - Philosophy and Art for Young Adults, Kulturfyren, Stockholm
2019-06 Artistic Expressions Camp for Children, Kulturfyren, Stockholm
2018-08 The Great Adventure - Philosophy and Art for Young Adults, Kulturfyren, Stockholm
2018-06 Artistic Expressions Camp for Children, Kulturfyren, Stockholm
2017-08 Dreamworlds - Philosophy and Art for Young Adults, Kulturfyren, Stockholm
2017-06 Artistic Expressions Camp for Children, Kulturfyren, Stockholm
2016-06 Artistic Expressions Camp for Children, Kulturfyren, Stockholm
2016-08 Structure of Myth: Philosophy and Art for Young Adults, Kulturfyren, Stockholm
2015-06 After Babel: Philosophy and Art for Children, Moderna Museet, Stockholm
2015-08 Imagine Festival, Edsvik Art Hall, Stockholm
2015-06 Artistic Expressions Camp for Children, Kulturfyren, Stockholm
2014-06 Artistic Expressions Camp for Children, Kulturfyren, Stockholm
2013-06 Artistic Expressions Camp for Children, Kulturfyren, Stockholm

Therapeutic and artistic facilitator of workshops within therapy, self development and team building:
20170101-20170530 - Self development group, Rättvik, Sweden
20181001-20190330 - Recovery therapy for people with fatigue syndrome
20190819-20190821 - Workshop for cancer survivors, Barncancerfonden.


Other Art-related positions:
2017- Artist Consultant and Coaching teacher at Måla och Skåla Stockholm
2016- Expressive Art Therapeut and Workshop Facilitator
2012- Permanent Artist Consultant and Teacher; Facilitating workshops for children and adults at Kulturfyren, Stockholm
2011- Permanent Artist Consultant and Teacher; Facilitating guided tours and workshops for children and adults at Moderna Museet, Stockholm