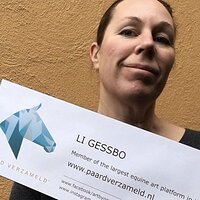 Li Gessbo
Uppsala
Find more, including prizes at www.gessbo.com

https://medium.com/paard-verzameld/li-gessbo-paard-verzameld-expo-af1045da159f:
"Li Gessbo is a contemporary equine artist from Uppsala, Sweden. As a former natural science illustrator and graphic designer is she now making the most expressive paintings, exploring the relationship between horses and humans.

Li has been around horses, raised in a family where she and her siblings have been competing in eventing, show jumping and dressage. Li still trains and competes in dressage, a horse-human relation that inspires to her art. For Li, the horses have always been the source of mental comfort and safety, but in the same time she has been exposed to physical risks and injured a lot of times. This relation arouses mixed feelings.

In her art Li wants to explore the feelings horses can awaken in us and she want to express the interdependence. She also asks questions about the experiences that horses and humans share: We are living in the same world, we are different, but perhaps more similar than one would think? The horse is also a symbol and a creature that we can project both our dreams and fears on. Li moves in the borderland between abstract and figurative art. She wants to let emotion and intuition control the creative process and works consciously to focus on the expression of feelings and not to illustrate reality. Each artwork is a unique piece of contemporary art, it doesn't look like anything else."

For more art and latest updates, please visit:
www.facebook.com/artbygessbo/
www.instagram.com/gessbo/
Original art for sale.
Email: info@gessbo.com

Member of Paard Verzameld - the largest platform for equine art in the world.
Member of the international artist collective of Paard Verzameld.

Member of Svenska Konstnärsförbundet (The Swedish Artists Association).
Utbildning
2022 Berlin Drawing Institute, mixed media, distans
2021 Berlin Drawing Institute, creative drawing, distans
2020 Virbela ateljé, skapa i betong, Järna
2019 Ylva Sagers ateljé, gouache, Vadstena
2017 Global Stone Workshop, marmor, Uppsala
Mälardalens högskola: Fil.kand. Informationsdesign, naturvetenskaplig illustration
Uppsala universitet: lärarutbildning, bild
Medlem i konstnärsförening
Svenska Konstnärsförbundet, Paard Verzameld
Utställningar
2023
Maj 5 - Augusti 26, Sigtuna Kulturförening, Märsta
April 7-13, Galleri Upsala, Uppsala
Juli - pågående, digitalt "Ett verk var", Svenska Konstnärsförbundet

2022
Oktober 1-29, Höstsalong Sigtuna Kulturförening, Märsta
September 10, Galleri Zeitgeist – Art Show, Uppsala
September, Horse Museum Foundation, Pratoni del Vivaro World Championships
July 22-29, Stenhuset, Skokloster
June 3-6, Konstrundan i Hjo
April 13-24, Konst till Ukraina, Gamla Stans Galleri, Stockholm
Februari -pågående, Artebinaria – Augmented Imagination: https://www.artebinaria.it/

2021
September 18 - October 18, Digital Salong, Eskilstuna Folkhögskola
July 31-August 6, Stenhuset, Skokloster.
July 30, Margin Alexander Music Exhibition, Manhattan, New York
July 3-8, Galleri Stenhallen, Borgholm, Öland.

2020
Galleri Zeitgeist - Pop up art, Saluhallen, Uppsala
July 11-24, Stenhuset, Skokloster
September 5-10, Galleri Bellman, Stockholm
October 31 - November 5, Galleri Upsala, Uppsala

2019
May 1, Hästivalen, Säva Ridcenter, Örsundsbro
November 16, Galleri Zeitgeist - Art Show, Uppsala