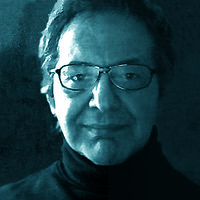 Ferenc Flamm
About the Artist

Ferenc Flamm grew up in Budapest and from an early age he fell in love with art, music and dance. His interest continued to mature during his studies at the Art Gymnasium in Budapest, at the Béla Bartók Music Conservatory and at the Hungarian Art Academy between 1960-1969. He has studied art history, painting, anatomy and movement according to the Central European art education with roots in Leonardo da Vinci's principles and the legacy of many other classical masters.

In 1976 he moved to Sweden, formed a family, studied at the School of Fine Arts in Gothenburg and then started working as a graphic designer, illustrator and artist. For the past 15 years, he has returned to his artistry; portrait painting, assignments, several own art projects, oil paintings and lithographs. His work has been shown in the Agora Gallery on Broadway in Soho and at The City Hall in New York, at the US Congress on Capitol Hill in Washington DC, in Orlando and Fort Lauderdale in Florida, at the Morton H. Meyerson Symphony Center in Dallas, and on Long Island. He has participated in a collections exhibition at The Mall Galleries in London, exhibited in Budapest, Stockholm, Lund and Gothenburg. A few years ago his music series "Gothenburg Suite" was shown at the Concert Hall in Gothenburg, the paintings portrayed musicians and conductors at the Gothenburg Symphonics.

In 2017, Ferenc began focusing on one of her favorite themes, the performing arts; ballet and music. He visited rehearsals at the Göteborg Opera's Skövde Stage and the Ballet Academy in Gothenburg. He did studies, sketches and photographs to create a visual journey into the world of ballet and capture the work behind the performance on stage. The series consists of 18 oil paintings on masonite board (95 x 90 cm), created with palette knives and brushes.

"Backstage" has gained international attention, was published in the English art magazine Art Habens Art Rewiev, https://goo.gl/iADXkM, and displayed in August 2018 at The Gallery & More in Gothenburg, Sweden.
______________________________________________________________________________________

Ferenc Flamm växte upp i Budapest och redan från tidig ålder blev han förälskad i konst, musik och dans. Hans intresse fortsatte att mogna under hans studier på Konstgymnasiet i Budapest, på Béla Bartók Musik Konservatoriet och på den Ungerska Konstakademien mellan 1960-1969. Han har studerat konsthistoria, måleri, anatomi och rörelse enligt den Central Europeiska konstutbildningen med rötter i Leonardo da Vincis principer och arvet efter många andra klassiska mästare.

1976 flyttade han till Sverige, bildade familj, har studerat på Konstindustriskolan i Göteborg och började sedan arbeta som grafisk designer, illustratör och konstnär. Under de senaste 15 åren har han återvänt till sitt konstnärskap; porträttmåleri, uppdrag, flera egna konstprojekt, oljemålningar och litografier. Hans arbete har visats i Agora Gallery på Broadway i Soho och vid The City Hall i New York, vid den Amerikanska Kongressen på Capitol Hill i Washington D.C., i Orlando och Fort Lauderdale i Florida, på Morton H. Meyerson Symphony Center i Dallas, och på Long Island. Han har deltagit i samlingsutställning på The Mall Galleries i London, haft utställningar i Budapest, Stockholm, Lund och i Göteborg. För några år sedan visades hans musikserie "Göteborgssviten" på Konserthuset i Göteborg, målningarna porträtterade musiker och dirigenter vid Göteborgs Symfoniker.

2017 började Ferenc fokusera på ett av sitt favorittema, scenkonsten; balett och musik. Han besökte repetitioner vid Göteborgsoperans Skövde Scen och Balettakademien i Göteborg. Han gjorde studier, skisser och fotografier för att skapa en visuell resa i världen av balett och fånga arbetet bakom prestationen på scen. Serien består av 18 oljemålningar på masonitskiva (95 x 90 cm), skapade med palettknivar och penslar.

"Backstage" har uppmärksammats internationellt, publicerades i den engelska konsttidskriften Art Habens Art Rewiev, https://goo.gl/iADXkM, och visats i augusti 2018 på Gallery & More i Göteborg.
Utbildning
Konstgymnasiet i Budapest, 1960 -1964
Ungerska Konstakademien 1966-1969
Konstindustriskolan i Göteborg 1976-1977
Utställningar
1998 Agora Gallery, Broadway, New York
1998 The City Hall of New York, New York
1999 Yeshiva University Museum, New York
1999 Summer Festival of Lond Island, New York
1999 The Morton H. Meyerson Symphony Center, Dallas
1999 Rondo, Capitol Hill U.S. Congress, Washington D.C.
1999 The Ben Uri Art Society, London
2000 Galleri Ängeln, Lund
2002 The Balint House, Budapest
2016 Göteborgs Konserthus, Göteborg
2018 Gallery & More, Göteborg