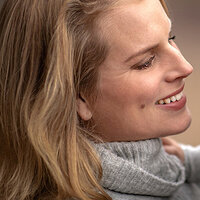 Emelie Pettersson
Emelie Pettersson is an artist living in Stockholm, Sweden. Although she began her passion for art at a young age with doodling and crafting, discovering painting was the fuel that fed the flames of creativity. She was hooked!

Now, she finds time for painting in between caring for three kids, which is quite the challenge. You can often find her up at all hours of the night just to finish that one painting that she hasn't quite perfected yet. She can't help herself.

Her colorful, abstract paintings can be inspired by almost anything in her surroundings, from nature and architecture to friends and family. Some of her main sources of inspiration are independent women in different kinds of media such as films, magazines and social media which is evident in her love for painting strong, powerful women. These colorful portraits are modern and include abstract elements which reflect the importance of equality among genders and ethnicities.

She seldom plans what to paint. Instead, the motif grows throughout the process. She finds this organic process the best part; to let herself loose and completely embrace the feeling of losing control, all while enjoying the process. To let the painting and the colors lead the way. Painting is her kind of meditation.

In 2021, she took part in exhibitions in Stockholm, Milan and London.
Utbildning
Autodidakt
Medlem i konstnärsförening
Konstlobbyn
Utställningar
2021, Fitzrovia gallery, London, England Sweden
2021, Saatchi gallery, London, England
2021, M.A.D.S art gallery, Milano, Italy
2021, Galleri Pionen, Vaxholm, Sweden
2019, Juste Gallery, Stockholm, Sweden
2019, Kvarnens pensionat, Falkenberg,
Aktuellt
London 13-28 augusti 2021
Publicerat 10 augusti 2021
Kontakta Emelie Pettersson