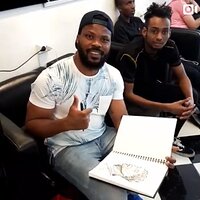 David Obi (b.1980) is a Norwegian based contemporary Artist.
His passion for art started at the early age of 5. He has always loved art and craft, growing up as a kid.He question feelings and emotions on people's face and their life try to reflect them on his work.

David work in different varieties of medium to create his paintings. From watercolor, oil,acrylic,ink and gouache. His work are often abstract, figures,portrait,landscapes, conveying huge layers of bright and strong colors with a lot of details and meaning.Capturing the complexities of people's emotions and inner nature are among his favorite topics.

He grew up in a multicultural environment in one of Africans most populous city in Lagos, Nigeria.David moved to Sweden in 2011, in a small town called Karlskoga.And later moved to live in Gothenburg. There he was inspired and fascinated by the architectural structure and beauty of the entire city, Gothenburg .
He has painted and exhibited several pictures from Gothenburg, the city he called my ( second home).
David has exhibited his work in major galleries and Library's in Karlskoga, Stockholm, Gothenburg, and has featured in several public and private collections.
Currently living in Oslo, Norway where he has his new studio.
Utbildning
Yaba college of art and technology Lagos,Nigeria.
Medlem i konstnärsförening
http://alvstadenskonstforening.org/index.php/9-tverksamhet/19-david-obi-hos-alvstadens-konstforening
Utställningar
Samlingsutställning med bild- och glaskonst, Rivercity Galleri, Göteborg 2014 (Group utställning )

Mind and face expression, Frölunda kulturhus, Göteborg, 2013 (Solo)

Kultur vid vattnet, Frihamnen Göteborg, 2013 (Solo)

Älvstadens Konstförening, Göteborg, 2013 (Solo)

Swedbank Wieselgrensplatsen, Göteborg, 2013 (Solo)

Galleri VG22, Göteborg, 2013 (Solo)

Scandic Foresta, Stockholm, 2012 (Solo)

Spring Aid utställning , Göteborg, 2012 (Solo)

Karlskoga Bibliotek 2011 (Solo)

Signature art and interior gallery Lagos Nigeria 2006/2009 (Group exhibition)

Art and design students association (ADSA) Water Color Exhibition, Lagos Nigeria, 2003 (Group exhibition)

National Art Student Exhibition, Lagos Nigeria, 2003 (Group exhibition)

Art and design students association (ADSA), Lagos, Nigeria, 2002 (Group exhibition)