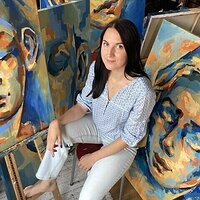 Tetiana Cherniavska
Malmo Född: 1995
Jag är en Ukrainsk konstnär. Jag bor och målar i Malmö. Mina verk har blivit visade i flera utställningar i Malmö, Polen, Tjeckien, Litauen, USA och en solo utställning i Kiev, Ukraina. Porträtt är min favorit form av konst, samt abstrakta porträtt. Människor är min största inspiration till mina konstverk.

Jag gillar att experimentera med nya tekniker, mestadels med akrylfärg, akryl-pasta och slumppmässiga saker, t.ex. sand. Varje porträtt är unikt på sitt sätt.
Utbildning
2005-2009 The Art school in Kremenchuk, Ukraine.
2009-2013 Junior Specialist of art ceramic, The Art Ceramic College of M.W. Gogol in Myrhorod, Ukraine.
2013-2018 MA in Graphic Arts and Technology, Maria Curie-Sklodowska University in Lublin, Art faculty, Poland.
Utställningar
2014 : Exhibition of ukrainian art students in Poland."Z milosci do Ukrainy"
("With love to Ukraine"), Chatka Zaka Gallery, Lublin, Poland.
2014 : Polish festival, students art exhibition, Kazimierz Dolny, Poland.
2015 : Art exhibition of exchange students, fuculty of arts of Siauliai University, Siauliai, Lithuania.
2016 : Polish students of art faculty exhibition, Hradec Kralove, Czech Republic.
2018 : "423 RED Salty", Auditorium at Clara, Sacramento, California, USA.
2019 : "Best final works 2018", Kont Gallery, Lublin, Poland.
2019 : Solo exhibition "МЫ" ("We"), AMD club design Gallery, Kiev, Ukraine.
2021 : Exhibition at "Englesson Galeri" in Malmö, Sweden.
2022 : Exhibition at Gustus Galleri in Malmö, Sweden.
2022 : exhibition and painting performance at Återbruket, Malmö Sweden. Event "Malmö Gallery Natt"

Press:
Flomm.com/ Radio Flomm, Podcast, Biography, Oct. 23. 2018
(https://soundcloud.com/flommus/radio-flomm-baladodiffusion)
Flommski, (https://flommski.tumblr.com/).