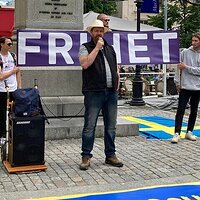 Bernard Valter
Hello!

I am the voice of the video blog Sanity4Sweden, and because of negative reactions to my videos, from relatives, customers and contacts, I decided to use an artist alias. You see, when people who liked and bought my art realized I was "extreme", a lot of doors were shut - connections and relations I had built up over many years were ruined in a few months. I didn't want to paint anymore, stopped painting and took down my website.

Things are changing fast now and even many of my former critics now understand just how right I have been over the years. The situation you see around you today I predicted and warned about many years ago. I warned about these things even though it meant I was losing "friends" and a promising career as an artist.

Now people start to understand that I have been different - I didn't go with the flow, I didn't care for approval, I stood up for my right to speak and I couldn't be silenced by a politically correct, virtue signalling mob.

I believe this is why there's a strong and growing interest in my art today.

I no longer need an alias but I am keeping the name Bernard Valter, because I like it, and to remind myself of those who turned their backs.

I started painting seriously in 1996. I did my first art exhibition in Stockholm 1998, followed by about 40 shows including Italy, Malta, Poland, Denmark, Sweden, USA and Germany. My work is permanently displayed in my own gallery here at the homestead.

I always paint using my eyes and a free hand. For me painting is mainly spiritual, so I hope that my work manifests myself, what I am about.

I also do commissioned work.

For more information, contact Maria at maria@jobblust.nu
Medlem i konstnärsförening
Norra Vätterns Bild- och Formkonstnärer
Med i konstrunda
NVBOFs årliga konstrunda
Utställningar
Skylight gallery, Chelsea, NY
28 june 2012

and 30-40 more
Aktuellt
When people buy my work I congratulate their children and grandchildren. They now own something which will be very valuable.
Publicerat 20 augusti
Creating a garden, making beds for vegetables to grow in, planting bushes and trees, is similar to painting, only more work I suppose. Planting a seed is like dipping your brush in paint maybe. It's a big canvas. When fall comes I will be back in the studio.
Publicerat 15 juli
I thought I would paint this summer. I have been enjoying it so much during winter. But when summer came I started building a wood shed, harvested hay and grew vegetables, so now the paint is dry and I just look at the canvases as I pass them.
Publicerat 2 juli
I'm almost finished with "the jumping woman" and I know what to do now. The "jumper" has been finished for a long time, but the background has changed three times. The first two backgrounds just didn't work. I am learning that I have to pay attention to the model. This jumping lady was not what I first thought she was
Publicerat 8 juni
When visiting flea markets my girlfriend look for various stuff. I mainly look for old frames. I found two of them a week ago, great looking with lots of character, built canvases to fit them and just started painting. Of course the waiting frame will influence the result.
Publicerat 18 maj