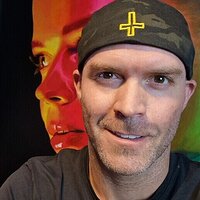 Brenden Manden
Uppsala Född: 1982
Engineer by day, Artist by night.

I am an engineer as well as a contemporary artist and painter living in Uppsala, Sweden. I specialize in portraiture, figurative work and fluid art.

As a child, I was always drawing. Throughout my teenage years and into adulthood, I continued to draw and illustrate. After moving to Sweden from New Zealand I began working with acrylic paint and I started focusing more on painting in my spare time.

I continue to push and challenge myself, experimenting with new techniques and materials to progress my art.