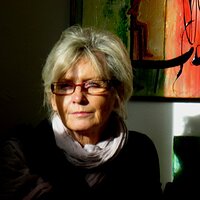 Cicily Bäckström
Om konstnären
Målar utifrån mitt inre, direkt och spontant och kommer jag in i ett "flow" är känslan komplett och helt underbar.

I am a person honouring freedom.
Abstract painting give me freedom to catch feelings and ideas that enter my mind in the moment, just that precise moment. The paintings reflect my authentic ego.

A reporter, as recently reviewing my artistry, wrote that he saw it as if there were four different artists in my exhibition.
See that as an asset or a shortcoming, I can only state that this is how I work.

In my paintings there are nevertheless certain common denominators, such as clear saturated colors, sweeping lines, structure and movement.
Utbildning
Autodidakt
Medlem i konstnärsförening
www.svenskakonstnarer.se/galleri/cicil8
Med i konstrunda
Sollefteå konstförenings Konstrunda
Utställningar
Jurybedömda:
Bohussalongen, Uddevalla 1994
Göteborgs konsthall
Vårsalongen, Liljevalchs Konsthall, Sthlm 1995
Nordichallen, Sundsvall 1995
Pixit Art Collection, Uddevalla 1997
Kulturhuset Majoren, Sollefteå 2003
Opera Gallery, Budapest 2008
The Sounds of Art, Köpenhamn 2009
iBiennial of Contemporary Art, diploma of excellence honorable award 2009, London
Art Now 3rd online global art annual,diploma of excellence, London 2009
Anima All Nations Modern Art, Danmark 2010
Göteborgs konsthall 1994
Bohusläns Museum 1994
Liljevalchs Konsthall Stockhlom 1995
Opera Gallery Budapest 2008
European Open Art Utrecht 2011
Florence Biennale 2011
Parallax Art Fair London 2012
Natural Selection Berlin 2012
Liberated Dreams Ferrara 2012
Cutting Edge Florenz 2012
Art Expo 2016 Milano 2016
Rossocinabro Gallery Rom 2017