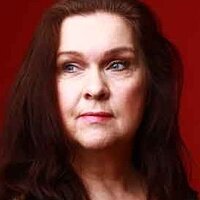 Annica Magnusson
Jag heter Annica Magnusson och bor i Uppsala. Att måla Mandalas är meditativt och det får mig att glömma tid och rum. Jag är utbildad Vedic Art lärare. Jag målar främst med akryl men också blandade tekniker, tidigare även fotomontage.
Min konst präglas av mitt intresse för den andliga dimensionen av livet och fascination av, naturen, universums mysterium. Innehar F-skattsedel.

All pictures at this webpage has Copyright © Annica Magnusson

My name is Annica Magnusson and I live in Uppsala, Sweden. I paint mainly with acrylic on canvas. Vedic Art inspired art ,mixed techniques also previously photomontage.
My art is characterized by my interest in the spiritual dimension of life and fascination of the mysterious universe.
Utbildning
Västerås Konst skola, Grafiskt Utbildning Centrum, Uppsala, Grafisk Design Accademedia, Stockholm
Vedic Art utblidning, Uppsala
Medlem i konstnärsförening
Uppsala konstnärsförening
Utställningar
Previous exhibitions
14- mars - 21 mars 2020, Galleri Soho, Västerås
16- september - 17 september 2019, Dome of vision, Göteborg
23 februari - 28 februari 2019, Galleri Uppsala.
24 februari - 2 mars 2018, Galleri Uppsala, Uppsala.
8-9 februari 2018, The Norman Plastow Gallery, Wimbledon, London.
21-22 oktober 2017,Parallax Art Fair, London.
25-26 februari 2017, Parallax Art Fair, London
02 april 2016, Konsert & Kongress, Uppsala.
18-19 juli 2015 Linné Sävja, Uppsala.
2-3 augusti 2014, Art Lab, Uppsala.
3-4 augusti 2013 på Linne Sävja, Uppsala.
30 mars - 12 maj 2013, cafe´ 66, Ramnäs.
11-12 Oktober 1998 Rädda Barnen, Gamla Tingshuset, Uppsala
Kontakta Annica Magnusson