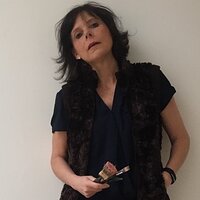 Anna-Karin Lingham
Om konstnären
Jag målar i akryl med glada färger. Varje målning har sin egen historia. Ofta blir tavlorna stora, naiva, glada och färgstarka.

Jag har haft en kreativ ådra ända sedan barnsben, men det var inte förrän härom året som jag började ägna en del av min tid till målning. Nu fungerar målandet som en kreativ balans till mitt arbete som varumärkeskonsult och inspirerar mig i alla delar av livet.

Utbildning: Oljemålning på Folkuniversitetet samt Akrylmålning och Vedic Art på Skaparladan. Kalligrafi och graphic arts under skoltiden. Privata konststudier.
______________________________________________

I started painting to find out if there was anything hidden inside my mind that wanted to come out. And there was. Now I paint every now and then as a balance to my work in branding and business. It boosts the creativity in every area of my life. And, as I have learned, it also makes others happy.

I paint with happy colors. Each painting has its´own story. Often the motives move on to new grounds like art trays and cushion covers. Everyone can have their own piece of my art.

I have had an interest in creativity and art since childhood, but it was only recently that I started giving acrylic painting some extra time and energy. During the summer of 2015 I painted for a week at Skaparladan north of Stockholm, only for fun. Some friends saw the paintings and loved them.

Since then my artwork and interior design have started to live their own lives in peoples homes and on their walls.

Education:
Oilpainting at the Folkuniversity of Sweden, acrylic painting and Vedic Art at Skaparladan, Sweden, Calligraphy and Graphic Arts in Minnesota, USA. Private studies of art.
Utställningar
2019 Skybar and lounge, Scandic Ariadne, Stockholm
2016 Galleri Darling, Stockholm
2016 Axfood, Solna
2017 Livingroom, Stockholm
2018 Riddersviks Gård, Hässelby, Stockholm
2018 Scandic Ariadne, Värtahamnen, Stockholm