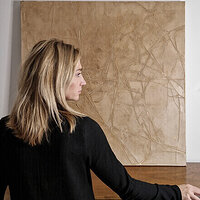 Aliya Rabbani is a contemporary artist. Her artistic practice is distinguished by her unique approach to texture manipulation, involving the layering of raw cement to create distinct patterns, followed by an intricate carving of hardened surfaces.

Aliya's art focuses on the interplay of diverse mediums, materials, textures, colors, and emerging patterns on distinctive surfaces.
Through the incorporation of symbolic heartbeats and a limited visual vocabulary, Aliya touches on the sensitive topic of the finite nature of human existence.