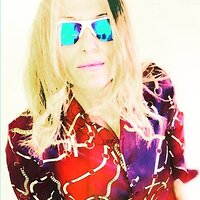 Alexandra Vusir
Welcome!
I'm a self-taught artist, currently painting in acrylic, watercolor and photography. The photos are then used in my digital art which is a big part of my expression.

Most of my art is composites between these media. I especially love birds, trees and the sea. The natural world is pure magic. Mahine vs Soul. I think we live in a simulation - a dream in a dream in a dream ...

I am also a freelance writer, bikini designer with my own brand and amateur photographer. I have been practicing meditation for 30 years, 12 years with Vipassana meditation, a Buddhist tradition that inspires me in my work. Otherwise, I'm a passionate Tango Argentino dancer (amateur).
Utbildning
Autodidact.
Utställningar
2019 Stadsbiblioteket Malmö
2019 Englesons Galleri Malmö
2019 Englesons Galleri Malmö, Christmas Exhibition
2020 ....blackout... ;)
2021 Planned Exhibition by fall