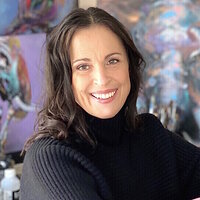 Ulrike Nordquist
Täby Född: 1972
Welcome and have a look at my Online-Studio at the Swedish website for contemporary art: www.konst.se! My paintings shown here have a price range between 500kr (50EUR) and 10.000kr (1.000EUR). The canvas size varies from 20x30cm to 100x120cm. For larger sizes please contact me. If you like, follow me on Instagram, most welcome:
ulrike_nordquist_art.
On my website you will read about current exhibitions and other plans: www.ulrikenordquist.com and www.imaginaryart.se.
Stay safe!
Utbildning
painting & photography since early schooldays; studiospace and mentorship at Edsvik Konsthall in Sollentuna 2014-2015; steady classes with different arists; working at my own artstudio since 2016
Medlem i konstnärsförening
Svenska Konstnärsförbundet
Med i konstrunda
Konst i Roslagen, Täby
Utställningar
Edsvik Konsthall Sollentuna 2015 and 2016
Galleries in Gamla Stan, Stockholm 2015-2016
FoKo "Art To Go" fairs in Stockholm, eg Sickla and Mood Galleria 2015-2018
Hägernäs Strands Gallery in Täby 2015 and 2018
Restaurant Triften, Täby
Yogabolaget, Åkersberga
Gustavas Magasin, Ågersberga
Since 2016 regular exhibitions at my own Studio in Täby/Hägernäs (15min north of Stockholm City)
Exhibitions with "Konst i Roslagen"
current:
March-July 2020: Stockholm City, FO-KO.se
September 2020: ARTPORTABLE Stockholm (www.artportable.com)
More information as well: www.ulrikenordquist.com
Buy your favorite poster via my new posterstore: www.imaginaryart.se
Kontakta Ulrike Nordquist