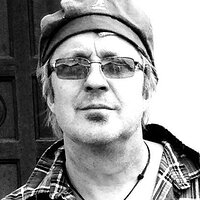 Tobbe Malm
Malm växte upp i ett litet gruvsamhälle i Bergsslagen där sprängningar skakade marken natt som dag och som grävde ett myller av gångar under jord. Den åtråvärda järnmalmen fraktades upp och kokades i en gigantisk masugn vars eldsflamma från den långa skorstenen lyste upp det lilla samhället 24 tim per dygn, året om. De flytande järnet transporterades i specialvagnar genom samhället ut till industrin för vidare förädling.
Järn rost ålderdom, en kostym av sprucken struktur. Materialets strävan att återgå till sitt ursprung, födas på nytt, gestalta sej i ny skepnad. Ur ett perspektiv, ett ögonblick, ur ett annat, en evighet.
Den tunga industrin var alltid närvarande under hans uppväxt vilket starkt påverkade människorna och samhällets strukturer. Jantelagen var Gud och en garant för klassamhällets "effektivitet". Masugnen släktes 1981 och den sista gruvan stängdes 1992. Det senaste åren har Tobbe Malms historia varit en stor källa till inspiration och föremål för utforskning vilket numera starkt präglar hans arbeten.
Malm jobbar i huvudsak med metall, med klassiska varmsmidda uttryck och återbruk av skrot och andra material. Han tillverkar instrument av skrot och komponerar musik.
Sedan 2011 driver Malm verkstad, musikstudio och galleri på Bærums Verk, Norge
Utbildning
Autodidakt
Medlem i konstnärsförening
Svenska Konstnärsförbundet, Konstnärsalliansen, Norsk Forening for Uavhengige Kunstnere, Sveriges konstsmidesförening, Norsk kunstsmiförening,
Med i konstrunda
Kunst rett vest
Utställningar
2017

Workers Gallery South Wales

Mlada Boleslav Metall symposium Tjeckien

Kunst Rett Vest Fossekleiva Norge

Galleri Kalk Slemmestad Norge

Factory Light Festival Slemmestad Norge

Höstutställningen på Bæerums Verk Norge

Kommunegården Sandvika Norge

Volart Fornebu Norge

2015-2016

Bricklane gallery London

Jed Malitz gallery New Orleans

Bolt Poetry (solo exhibition), Arthouse Limburg, The Netherlands

Kunst rett Vest Henie Onstad kunstsenter Oslo

Kunsthåndverkerna Oslo

Kunst Rett Vest Dikemark, Norway

Verksuke Baerums Verk

Borlange Konsthall Sweden

Bærums Kusthall

· Abrahamsgårdens konsthantverkare Norberg
· Kopparsticket Stora Enso
· Galleri kvarnen Västerås
· Galleri Castor Stockholm
· Nacka forum Stockholm
· Östermalms konst Stockholm
· St Hans ruin Gotland
· Gröna gården Gotland
· Kultursmedjan, Samsö Danmark
· Nastola Finland
· Gamla Meken Smedjebacken
· "Designeåret" Hedemora
· Artista café og galleri Sandvika
· S9 galleri Oslo (april 2011)
· Kopparsticket Stora Enso (maj 2011)
· Galleri Abrahamsgården Norberg (juni 2011)
. S9 galleri Oslo (dec 2012)
. JERNMALM- Baerums Verk (april 2014)
. Baerums Verk (november 2013)
TOBBE MALM metalArt - Verkstad och galleri

Verksgata 6A
1353 Baerums Verk Norway

Välkommen
25 november 2016
A steel bolt is probably one of the least emotional or human things that I can think of, but that's not how Tobbe Malm feels. This Swedish blacksmith in Oslo can coax simple steel nuts and bolts into human-like forms that, despite their simple shapes, seem laden with emotion.
On his website, the blacksmith explains how this series, called Bolt Poetry, came about; "The bolts are from an old farm in the heart of a the area Bergsladen in Sweden. I found them in a barn… The bolts reminded me of human forms, and I felt they had something to tell. I heated them, forged, bent and twisted. I tried to create relations, meetings and situations and suddenly stories emerged about sorrow, joy, pain, warmth and humour. A kind of poetry was created, hence the title."

Bored Panda
25 november 2016
Oslo-based blacksmith and photographer Tobbe Malm manages to create unusually emotional sculptures using old bolts. The series began when Malm stumbled onto the rusting bolts at a barn in Bergsladen, Sweden. He immediately recognized the wide caps and slender stems as having humanistic qualities so he gathered them up and proceeded to heat, forge, twist and bend them into shape in his studio. The resulting collection of sculptures titled Bolt Poetry, evokes humanistic moments of affection, sadness, and pain. You can see more of his work on

This is Colossal
25 november 2016
My work is how I live my life. I draw strength from the excitement and drama found in our memories
and experiences. The passion of encounters drives me. We are all part of one universe, and our shared
connection is most obvious during encounters. An encounter can be fleeting, but each one begins a new
path in my life. In this way, moments are timeless. When the iron in my forge is hot and malleable, there
is just a single moment in which to encounter a raw, shapeless state. A story emerges, and I freeze the
expression to a form.
25 november 2016